Event Details
Date: 20 November 2020
---
Location name: VIRTUAL MEETING
---
Contact: Jessica Leigh
---
Tel: +44 (0)20 7404 8373
---
---
---
Report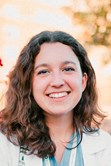 By Ana Maria Saenz Macias, Royal Surrey NHS Foundation Trust, Guildford, UK.
The 1st WENTS Mentor Training Meeting started on time without any technical issues. Approximately 30 delegates attended, the numbers deliberately small to facilitate an interactive experience.
Laura Blackburn introduced the event and then handed over to Paula Coyle, WENTS President, to introduce the rest of the faculty and give an insight into the WENTS Mentoring Scheme that had elicited the creation of this event.
The event was generously sponsored by MED-EL, who provided a fascinating video outlining their background as a company with Ingeborg Hochmair at the helm, and strong female leadership throughout the company. We were even treated to a cameo appearance from Ingeborg Hochmair herself.
After the introduction, we were into virtual breakout rooms. This gave us the chance to discuss with other participants what we were expecting of the workshop and what we wanted to achieve in these sessions. We then shared our thoughts through a very useful tool, Padlet. In this virtual board we all wrote the different topics we had considered previously in pairs. This gave us a great opportunity to participate in an organised manner, which can sometimes be an issue in Zoom meetings. Padlet was used numerous times during the day, and it was a great resource to allow contributions to the whole group.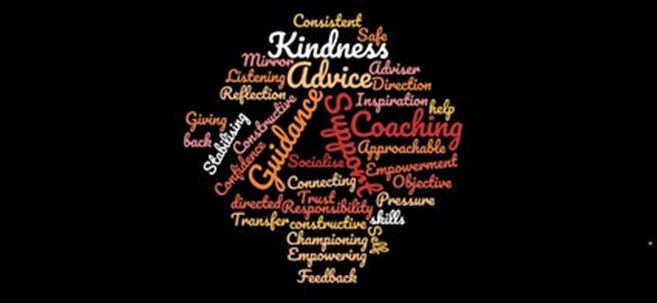 What's important to you in mentoring? A word cloud created from participants' real-time feedback.
Laura Blackburn then proceeded to expand on the definition of mentoring, as well as its differences, with similar concepts, such as coaching and supervision. It was then that she shared what I consider the take-home message of the day: [Mentoring] is about empowering learning and development. As someone who might be too eager at times to provide advice, this was quite a shock, however throughout the day that statement was reinforced and further explored.
Once we had had a short break, Laura continued developing the subject, covering the different skills that are necessary as a mentor and how they might differ from what we use in our daily clinical practice: the art of listening, the power of silence and the role of advice and challenges, all of which were consolidated with further small group exercises and subsequent group sharing.
After lunch, we reviewed some different coaching and mentoring models, emphasising the role of the mentee as the main pathfinder in mentoring sessions. Then it was time to put all of this to practice! During the day, participation had been greatly encouraged by the faculty, but this exercise was a real challenge: to mentor one of the other attendees and then be mentored by them. Having never done a formal mentoring session, it was very interesting to be in both the mentee and the mentor's boots, but also, it was a lovely networking opportunity, which I had never experienced during a virtual meeting.
As the meeting came to an end, we completed further activities discussing possible situations that might arise in a mentorship relationship. Then, after a final thanks to the incredible organisers and faculty, we finalised the event.
For further information visit: entuk.org/wents
E: ukwents@gmail.com
Facebook: WENTs 
Twitter: @UKWENTs