Event Details
Date:
13 December 2021
- 14 December 2021
---
Location name: Queen Elizabeth Hospital Birmingham
---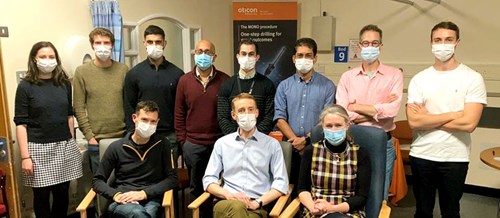 Junior doctors keen to pursue ENT came together with West Midlands ENT higher surgical trainees to take part in the West Midlands Inaugural Virtual Reality Temporal Bone Competition.
The ENT Simulation Suite, which has three VOXEL-MAN Temporal Bone Simulators, was recently set up by Mrs Lucy Dalton in her role as ENT Simulation Lead for the West Midlands following successful grants from Health Education England and University Hospitals Birmingham Charity. The suite has proven to be popular with local trainees who have attended regularly for courses.
The VOXEL-MAN provides virtual reality temporal bone simulation with haptic feedback to enable familiarisation of anatomy and safe practice. It was a delight to see the enthusiasm for the competition devised by Mrs Dalton and kindly sponsored by Oticon, Delta Medical and Minim Healthcare, with all 18 competition places filled plus reservists.
The competition was split over two days. Juniors (ST3s and below), who had little-to-no clinical experience of temporal bone surgery, attended on day one and the seniors (ST4s and above) attended on day two. The junior group was assessed by Mr Peter Monksfield, Mr Sanjiv Kumar and Mr Duncan Bowyer.
The junior candidates were able to make use of features of the simulator to aid safe drilling, including CT-navigation and warning monitors for key structures. The senior candidates had these features disabled. All candidates participated in two tasks: a 30-minute assessment of their "best" cortical mastoidectomy followed by a 90-minute assessment in which competitors were encouraged to demonstrate as much anatomy as they could.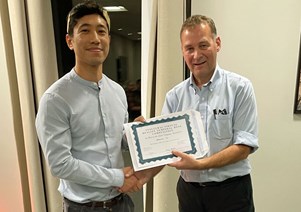 Mr Richard Irving, Mr Wai Sum Cho and Professor Simon Lloyd assessed the senior candidates. All competitors benefitted from personal feedback provided by the highly esteemed judges who generously gave up their time to support the competition. The event ran smoothly with excellent support, food provision and mathematical skills from the faculty, which included Mr Jayesh Doshi and Mr Charlie Huins as co-directors.
The competition culminated in a prize-giving dinner at Edgbaston Park Hotel. The junior category was won by Keshav Gupta, who showed an excellent understanding of anatomy and technical skills, and the runner-up prize was awarded to Emma Richards. A special commendation prize was presented to Aaron Hundle, a foundation year three doctor, who performed far beyond that expected at his level of training and impressed the team with his dedication and motivation. The senior category was won by Alexander Yao (right), who showed great focus, knowledge and aptitude. The runner-up prize was awarded to Sadik Quraishi.
Many thanks to the faculty, judges, and sponsors for giving us the opportunity to be involved in such a motivating and successful competition. The team were so pleased to hear such encouraging feedback and the clear desire for further events in the future.
Emma Richards, Walsall Healthcare NHS Trust