Event Details
Date: 15 January 2021
---
Location name: ONLINE
---
---
Report

By Edwin Halliday, ST6 Otolaryngology, Birmingham Children's Hospital.


The Winter Meeting of the Midland Institute of Otorhinolaryngology (MIO) took place over Zoom on 15 January 2021. The meeting, normally held biannually, had been cancelled in the summer due to the pandemic. This session, joined by around 90 attendees, was hosted by Birmingham Children's Hospital where the invited talks had a paediatric theme.
After an introduction by Adrian Thompson, the current President of the MIO, the first talk by Louisa Ferguson from the Evelina London Children's Hospital looked at cleft lip and palate for the ENT surgeon. ENT is often under-represented within the field of cleft surgery, yet the Training Interface Group Fellowship is open to ENT trainees and Louisa encouraged more to be involved within this subspeciality.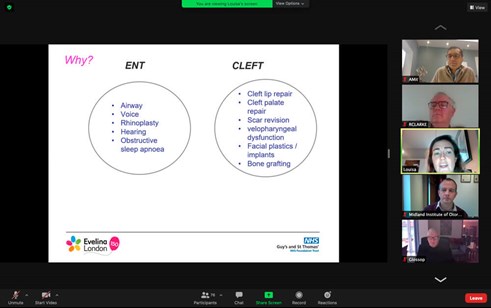 Mike Saunders, current President of the British Association for Paediatric Otolaryngology, gave the second talk on anomalies of the branchial arches. Embryology is often poorly understood, yet a frequently examined topic for the exam, and this talk nicely summarised these abnormalities. The Stirk Adams Lecture was given by Ray Clarke who took us back through the history books with a discussion of the management of deafness.
There were six oral presentations from trainees within the region. Abdul Nassimizadeh won the prize for his project on 'Three-dimensional endoscopy: the future of nasoendoscopic training'. Posters were displayed virtually and the prize was given to Kishan Rajdev for his poster titled 'A novel postgraduate virtual learning environment for surgical trainees in the Midlands and beyond'. 
Finally, a new award was introduced to honour the memory of Amged El-Hawrani, an ENT surgeon from Burton who tragically lost his life to COVID-19 in 2020. The inaugural winner of the Best Trainer for West Midlands was Charlie Huins from the Queen Elizabeth Hospital Birmingham. Nominations will be taken for trainers in the East Midlands in advance of the next Winter meeting.