Event Details
Date:
20 June 2019
- 22 June 2019
---
Location name: Rome, Italy
---
Location address: Parco dei Principi Grand Hotel, Via Gerolamo Frescobaldi, 5, 00198 Roma RM, Italy
---
---
Click to view dynamic map
Report by:

 Mr Jonathan Bernstein, Charing Cross and St Mary's Hospitals, London, UK

 Dr Luigi Volpini, Ospedale Card. G. Panico, Tricase, Italy

 Mr Ricard Simo, Guy's and St Thomas's Hospitals, London, UK
Following three quadrennial world congresses on thyroid cancer, two in Toronto and one in Boston, the fourth meeting (called 3.5) was held two years later in Italy and hosted by a highly distinguished steering committee. 
Some 700 surgeons, endocrinologists, oncologists, radiologists, nuclear medicine specialists and patient groups came to Rome for a varied and very enjoyable array of plenary and breakout lectures, panel discussions, seminars, Q&A sessions, breakfast meetings, instructional sessions, videos, e-posters and free papers. The congress leads, Dr Rocco Bellantone and Dr Celestino Lombardi, together with the North American steering committee of Drs Freeman, Randolph, McIver, Witterick, Shaha, Shah, Haugen and Tuttle, delivered the warmest hospitality and a remarkable conference in a wonderful city.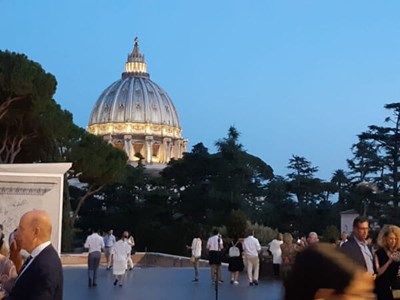 Reception with a view of the Basilica di San Pietro at night.
The event covered all topics in thyroid cancer management with emphasis in the new guidelines, genetics and genomics, epidemiology, new developments in targeted drug therapy, clinical trials, minimally invasive thyroid cancer robotic surgery and current surgical and management strategies. Some of the lecture highlights included active surveillance by Dr Miyauchi from Japan; recurrent laryngeal nerve monitoring by Dr Greg Randolph, Boston; new advances in anaplastic thyroid cancer by Dr Mark Zafareo, Houston; the extensive experience on thyroid cancer management by Professor Rocco Bellantone, Rome; and the parathyroid panel moderated by Dr Jeremy Freeman, Toronto, among many others.  The advanced ultrasound course covered topics such as hands-on short and long axis needle aspiration, slide preparation, assessing recurrent disease in the central compartment, ultrasound-guided ablative therapy, and international systems of risk assessment.
The events in the evening were just as interesting and fascinating, with exclusive guided tours taken by around 250 thyroid specialists at the Vatican and the Sistine Chapel followed by a reception with a view of the Basilica di San Pietro at night.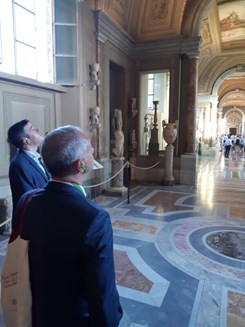 Exclusive guided tour of the Vatican and Sistine Chapel.
World Congress on Thyroid Cancer (WCTC) 3.5 was a superb event, providing a robust educational experience and the opportunity to develop international relationships with colleagues from around the world including Europe, North America and Asia. The next conference, WCTC 4.0, will be held in Boston, Massachusetts 29 July – 1 August 2021. We hope to see you there. It is truly worth it.