Event Details
Date:
22 September 2020
- 24 September 2020
---
Location name: WEBINARS
---

World Health Organization presented a webinar focusing on 'Task sharing for ear and hearing care (EHC) in times of COVID and beyond' as part of the ongoing World Report on Hearing webinar series. The webinar was conducted in two sessions on 22 and 24 September to be accessible to different time zones. Ear and hearing care professionals and stakeholders from 44 countries participated in the webinar.
Task sharing refers to the rational redistribution of clinical tasks or its key components among different cadres, involving an appropriate reallocation of tasks, from highly qualified health workers to health workers with shorter training and fewer qualifications. Dr Bente Mikkelsen, Director of the Department of Noncommunicable Diseases in WHO, opened the webinar by highlighting the current upward trend of hearing loss and lack of clinical services, which has been further aggravated during the current pandemic. She pointed to the need for strategic thinking for ensuring access to services during the pandemic and beyond.
Kaloyan Kamenov of WHO outlined the rationale of task sharing through sharing some initial results of an analysis on human resource availability. These results will be included in the World Report on Hearing and also detailed in a scientific journal.
Country experiences in provision of ear and hearing care services through task sharing were shared by experts from India, Kiribati, Malawi, and New Zealand. These examples showcased the potential of this strategy for improving access to ear and hearing care services in different health settings.
WHO speakers presented on the recommendations of the World Report on Hearing regarding task sharing, which should be implemented as a part of an overall human resource strategy. Relevant points to be considered include: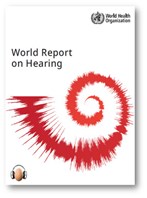 Implementation must be done alongside other efforts to increase the overall number of healthcare providers, including skilled workers.
Task-appropriate training should be undertaken using validated tools and approaches.
Supervision and support from ENT doctors or audiologists must be made available.
Use of telemedicine and automated devices can be helpful in improving the success of task sharing.
Text BoxTasks allocated to different cadres should comply with health regulations of the country.
Appropriate quality assurance mechanisms should be in place.
The World Report on Hearing will further elaborate on the concept of task sharing in addition to other overarching recommendations and guidance for the implementation of people-centred ear and hearing care by Member States and partners across the world.
This Report will be launched during World Hearing Day, 3 March 2021.

For more information or to sign up for the WHO EHC mailing list send an email to: whf@who.int.
To access the webinar recording, PDF of slides and the closed caption transcript, visit: www.dropbox.com/sh/wy854uds8jhvgei/AABEjsySRebgNwD_g225E8rUa?dl=0
By Karen Reyes, 
Techincal Officer,
WHO and Chitra C, India.