Michelle Chung and Narad Mathura outline the Down syndrome one-stop clinic; a multidisciplinary clinic introduced at the Children & Young Persons Audiology Centre (CYPAC) at Guys and St Thomas' NHS Foundation Trust for children and young people with Down syndrome.
Trisomy 21 or Down syndrome (DS) is the most common chromosomal abnormality in newborns and the commonest cause of intellectual disability worldwide. DS includes a combination of physical and neurodevelopmental impairments characterised by specific facial features.
Children with DS have an increased risk of concomitant congenital defects and organic disorders such as congenital heart disease (44-58%), hypothyroidism (28-40%), visual (38-80%) and hearing impairments (38-78%) [1]. Some of these complications are more serious than others, but most of them can be treated through regular health surveillance as recommended by the Downs Syndrome Medical Interest Group [2].
Every child with DS will be offered routine audiology reviews from the day they are born, due to the high prevalence of hearing loss and abnormal middle ear status in the paediatric population [2]. Around 60-70% of children with DS will have a conductive hearing loss caused by glue ear and a very small number (10-15%) will have a sensorineural hearing loss, which may also develop as they get older up to adolescence [3]. It is important to monitor hearing due to the impact it can have on speech and language development and academic progress.
The prevalence of DS is 1:1000 live births in the UK [4]. In the London Boroughs of Lambeth and Southwark this equates to around 10 new cases annually. Currently there are 160 children and young people aged 0-18 years known to the developmental paediatric service at Guys and St Thomas NHS Foundation Trust, London. In Lambeth and Southwark, a local audit identified that preschool children who accounted for 35% (n=51) of DS cases had on average 133 (range 50-234) health professional contacts annually [5]. Health providers and families discussed the principles of coordinated healthcare; continuing multi-agency care and family/child-centred care within focus groups and clinical teams to develop a more efficient and effective approach to health surveillance.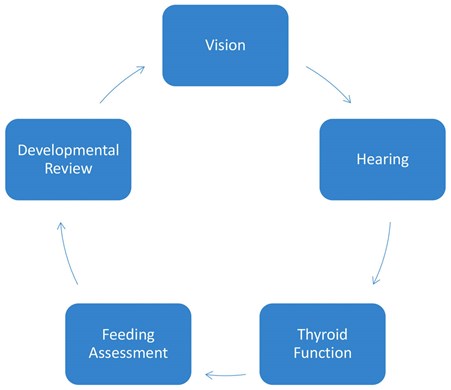 The appointments included with the core package for the DS1 clinic.
The 'One-Stop DS1' service was inaugurated in March 2017 to create a clinic that integrates several different specialities so that children with DS can be reviewed by more than one team on the same day. The aim was to reduce the burden of multiple health contacts, particularly for the pre-school cohort. Sequential appointments including a paediatric developmental review, hearing, vision, thyroid function screens and feeding assessment are provided within the core package.
Additional joint specialty paediatric clinics have also been offered when required; for example, cardiology, ear nose and throat and the respiratory clinic.
Audiology assessments for the One-Stop DS1 clinic are undertaken in the paediatric audiology service based at the Children and Young People's Audiology Centre (CYPAC) at St Thomas' Hospital where the department strives to ensure effective multidisciplinary working to support children and young people within our service. As well as the One-Stop DS1 clinic, we also provide support on a multidisciplinary cleft clinic where children with cleft lip and palate have a hearing assessment on the same day as seeing other professionals within the cleft team; as with the One-Stop DS1 clinic, the premise is to reduce the burden of multiple health contacts and support a family-centred care approach.
"Around 60-70% of children with DS will have a conductive hearing loss caused by glue ear"
The One-Stop DS1 clinic runs on the fourth Friday of the month with approximately five appointments per clinic. Suitability of patients is based on whether they are due an audiology review. The clinic is co-ordinated between the paediatric team, a designated audiologist and a designated administrator in CYPAC. Audiology appointments are 45 minutes to ensure sufficient time for comprehensive audiological history taking and testing, particularly as it can be challenging to test children with DS if they are not developmentally ready to perform the test. Families are also sent a pre-appointment questionnaire focusing on their child's likes, dislikes and triggers.
This is a pre-existing questionnaire already used in the department for children seen on our specialist Hummingbird clinic, specifically designed for children with autism and additional needs. It was felt that children seen on the DS1 clinic would benefit from having this questionnaire issued to improve the way the clinic is run and the quality of results obtained, this was therefore implemented as part of the clinic protocol.
Verbal feedback from parents attending the DS1 clinic thus far has been overwhelmingly positive. The main benefits reported by parents are the ability to have all their child's appointments with multiple specialities on the same day, less time spent away from school/nursery and receiving one comprehensive clinic report encompassing all specialities rather than multiple reports.
Overall, we have found the DS1 clinic to be an excellent example of multiple specialities working together to provide expert, collaborative clinical care to help support individuals with complex care needs.
References
1. Ostermaier KK. Patient Education: Down Syndrome – Beyond the Basics.
https://www.uptodate.com/contents/
down-syndrome-beyond-the-basics
Last accessed March 2020.
2. Basic Medical Surveillance Essentials for people with Down syndrome. Down Syndrome Medical Interest Group (DSMIG UK) Feb 2012.
3. Shott SR. Down syndrome: Common paediatric ear, nose and throat problems. Down Syndrome Quarterly 2000;5(2):1-6.
4. Weijerman ME, de Winter J. Clinical Practice: The care of children with Down Syndrome. Eur J Pediatr 2010;169(12):1445-52.
5. Wright A. Audit of Down Syndrome patient health contacts in Lambeth & Southwark. 2016 May; GSTT NHS London.
Declaration of Competing Interests: None declared.