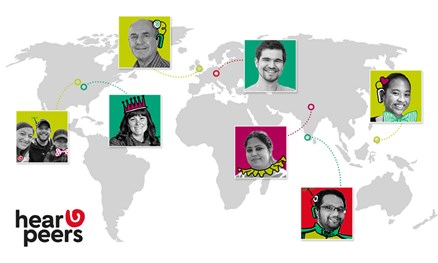 For ENT practitioners looking to offer patients additional emotional support and links to a reliable peer network, the Hearpeers community and its volunteer mentors are now available globally.
The Hearpeers initiative by MED-EL helps to connect patients who are considering or newly using hearing implants to a worldwide network of Hearpeers mentors. Mentors can provide first-hand experiences about life with cochlear implants, bone conduction devices, or middle ear implant systems.  In addition to being on hand to talk to patients about their hopes and fears, the volunteer mentors also have a unique perspective on the preparation for surgery and the importance of post-implantation rehabilitation.
Patients can connect to a Hearpeers mentor for free one-to-one support or chat with others in the community forum via www.hearpeers.com. The Hearpeers network is available globally, and with volunteers living in 15 countries it is easy for people to connect with someone who speaks their language – and importantly, with someone who understands life with hearing loss and hearing implants.
FURTHER INFORMATION:
For further information or free patient materials contact