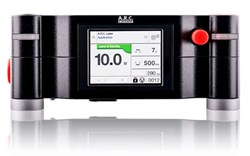 Offering leading consultants 25 years of excellence throughout the UK, Neomed's reputation across a legion of esteemed medical organisations is unsurpassed. Specialising in laser systems covering an array of ENT applications alongside service and support, safety for patients and operator is the company's priority.
Laser systems offering full user control and working in synergy with each other yield optimum results. Technology-driven equipment is at the core of the quality that surgeons draw on time and again.
WOLF TRUBLUE
Paving the way for office application in otolaryngology. The fibre-guided laser boasts peak haemoglobin absorption for a highly efficient surgery, minimal necrosis and faster healing. Used in non-contact mode, coupled with an array of probes, it provides ultimate versatility.
One of the best for coagulation
Access any treatment area
Glomus tumour - Papilloma - Polyps
FURTHER INFORMATION:
Neomed UK  
T: +44 (0)1707 663 200
E: info@neomed.co.uk
W: www.neomed.co.uk