Neuromod Devices has launched its Lenire tinnitus treatment device in the United Kingdom, where it is estimated that seven million people suffer from tinnitus.
The Lenire tinnitus treatment device is available to people with tinnitus through The Tinnitus Clinic's network of seven locations across the UK or online via Neuromod Medical's tinnitus telemedicine service.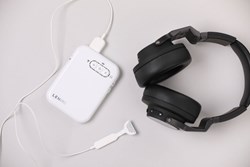 Audiologists from The Tinnitus Clinic and Neuromod Medical will provide Lenire to UK patients, as well as devising and monitoring their tinnitus treatment plans using the device.
In a large-scale clinical trial, involving 326 participants, Lenire delivered dramatic improvements in patients' tinnitus symptomsI. 86.2% of treatment-compliant participants reported an improvement in their tinnitus symptoms after a 12-week treatment period. When followed up 12 months post treatment, 80.1% of these participants had sustained the improvements.II
FURTHER INFORMATION:
E: info@lenire.com
W: https://www.lenire.com/find-a-clinic/
I  As measured by Tinnitus Handicap Inventory score
II  Conlon et al., Sci. Transl. Med. 12, eabb2830 (2020)