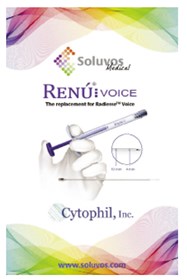 Autumn is about to start and everyone had hoped that social life, travel and meetings would be back to normal. Although most people would have preferred an in-person meeting, the BLA will be running a virtual event on 24 September.
Soluvos Medical will be supporting the following meetings:-
26-27 August 2021: the Zealand Rhinology meeting in Roskilde, Denmark
4-6 November 2021: Surgery techniques in laryngology Hands-On workshop with Markus Hess, Elisabeth Sjögren, Hans Mahieu, Ahmed Geneid in Hamburg
Renú Voice is the equivalent replacement for Radiesse Voice
Soluvos Medical supplies Renú Voice in Europe, direct or via partners.
Renú Voice is a cost-effective vocal fold injection augmentation product, containing synthetic Calcium Hydroxylapatite (CaHA) particles with a diameter of 25-45 microns. The syringe contains 1.5cc and can be injected percutaneously or with a trans-oral needle supplied separately. Renú Voice is FDA and CE approved.
Rose, Jeroen, Celine and Sharon.
FURTHER INFORMATION:
The Soluvos Medical team
Rose Henrichs – Jeroen Doomernik – Celine van der Hooft – Sharon Baltussen
T: +31 (0)403 041 717 or
UK T: +44 (0)845 528 0071
E: info@soluvos.com
W: www.soluvos.com