Working with the Estates & Facilities Team of the Dorset County Hospital NHS Foundation Trust, QuietStar recently completed an ISO-compliant paediatric audiology test room for The Children's Assessment Centre within the Dorset County Hospital.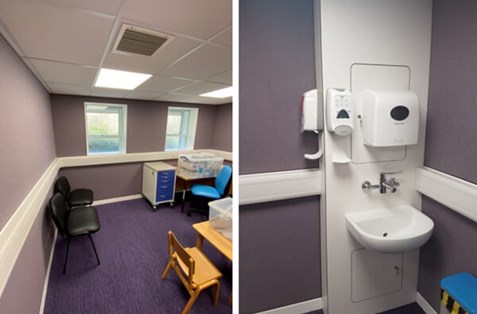 QuietStar undertook the complete design, manufacture, supply, installation and commissioning of this fully isolated test room. The room includes a hand washbasin, external glazing, full and independent air conditioning, specialist LED lighting and power/cabling outlets, all meeting the bespoke brief and specification requested by the Trust, whilst also adhering to the requirements of the ISO 8253-2 standards for sound field audiometry.
Working closely with the Trust's personnel, the QuietStar team undertook all the required demolition and enabling works, managed the site and, on handover, carried out and completed full testing and commissioning of the facility.
The QuietStar works were successfully completed to programme, despite some restrictions being in place, to enable the commencement and roll-out of the Trust's COVID 19 vaccination programme within the Children's Assessment Centre.

FURTHER INFORMATION:
QuietStar
T: +44 (0)1252 674327
E: info@quietstar.co.uk
W: www.quietstar.co.uk