Laryngopharyngeal reflux (LPR) is a significant condition that frequently goes undiagnosed at a primary care level, resulting in patients being unnecessarily referred to secondary care with symptoms such as a sore throat, persistent cough, vocal problems and issues with swallowing. Diagnosis usually relies on time-consuming, invasive and costly endoscopy, for example, evaluating the appearance – redness or inflammation caused by reflux – of the larynx and pharynx. Patients often have to travel considerable distances for access to testing, there are frequently delays in reporting, and the overall cost to the NHS is in the order of £750 per test.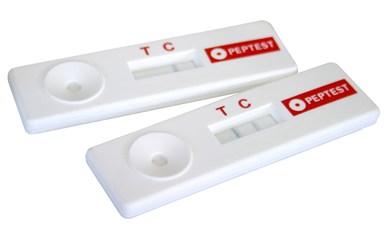 However, a recent multi-centre trial involving over a thousand patients with suspected LPR in five UK voice clinics has demonstrated that a simple lateral flow test, Peptest, diagnoses LPR with an overall sensitivity of 76.4 % and specificity of 100 %. At around £25 per test for laboratories, this valuable tool can confirm the presence or absence of pepsin in a patient's saliva sample within 20 minutes, without the need for any additional specialised equipment. This study – along with advancing research – provides supporting evidence that Peptest can be used by GPs and specialists alike as an effective alternative to the traditional diagnostic investigations for LPR.
Peptest is already widely recognised and is being adopted by consultants and services around the world, including the NHS; it plays a key role in directing the assessment of patients with symptoms suggestive of LPR, and can also be used to monitor disease activity and guide appropriate treatment, including selecting the correct therapies and making the relevant lifestyle changes. The next logical step is to encourage its use in primary care and take advantage of this simple, accurate and specific test to potentially bring about significant cost and patient care improvements to diagnostic pathways.
FURTHER INFORMATION:
W: www.biohithealthcare.co.uk/Diagnostics/Item/Peptest-50-tests