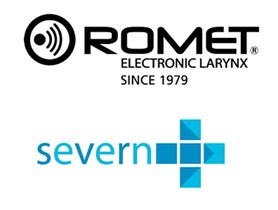 Tommy R. Dodson, President of Fountain Head Marketing dba Romet Electronic Larynx, is pleased to announce that Severn Healthcare Technologies Limited has been selected to become the exclusive authorised distributor of Romet branded electronic larynx devices in the UK & Ireland.
Romet is the oldest privately-owned manufacturer of electronic larynx devices in the world and is celebrating their 42nd anniversary of assisting laryngectomised patients to regain their ability to speak.
Additional exclusive distributors in other key worldwide markets are currently sought.
FURTHER INFORMATION:
Romet Electronic Larynx
E: info@romet.uswww.romet.us
Severn Healthcare Technologies Limited
T: 01635 887640
E: service@severnhealthcare.com