Romet Electronic Larynx is the oldest family-owned and operated supplier of Electronic Larynx devices in the world. After continuing to provide laryngectomised patients with the gift of speech for 42 years, production has recently moved and expanded to San Antonio, Texas, USA.
Tommy R. Dodson, President of Romet Electronic Larynx says, "Romet's reputation is based upon the value & quality of our products in addition to our network of worldwide independent distributors. These distributors market Romet products directly to hospitals, doctors, governments, and patients."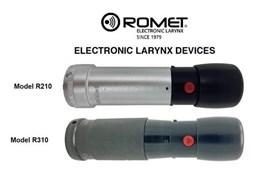 A total of five electronic larynx models are available, each designed to meet the individual requirements of the patient to regain speech after surgery. Electronic larynx devices are critically important for patients who do not medically qualify for a trans esophageal puncture (TEP), needing an electronic larynx to speak, or even use with a TEP as a backup. Additionally, a full line of accessory items to assist the patient in the protection of their stoma to maintain stoma health is available.
Tom adds, "Enquiries for new distribution rights in unserved or underserved countries are welcomed."
FURTHER INFORMATION:
Please email info@romet.us