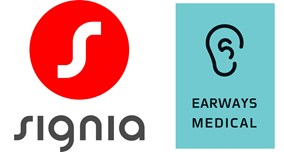 The EarWay
®

Pro by EARWAYS Medical is now available on the NHS Supply Chain Framework

Signia UK has announced a new partnership with EARWAYS Medical Ltd., a leading innovator of ear-care solutions. This partnership will enable distribution of the EarWay® Pro products via Signia to the UK market, and is already available on the NHS Supply Chain Framework. The EarWay® Pro is a safe, efficient and simple tool for wax removal - opening up vital new opportunities for pathway management. The clinically tested device is designed for certified Healthcare Professionals (HCPs), including ENT consultants, audiologists, general practitioners, and nurses, offering a new and innovative way to remove earwax in a safe, quick and effective manner.

 

Implementation of the EarWay® Pro enables HCPs to reconsider the patient journey, offering improvements to both patients and hearcare services. The EarWay Pro offers notable improvements to both hearing healthcare access, and overall continuity of care. All too often, clinic time is lost due to rescheduled appointments (largely impacted by wax issues) - the EarWay® Pro helps to remove this barrier, boosting clinic efficiencies and patient satisfaction.
"We are excited to announce our partnership with EARWAYS Medical," says Philip Stores, Managing Director, WSA UK. "The EarWay Pro offers us a unique opportunity to reconsider our patient pathways, addressing the challenges of cancelled appointments and wasted clinic time due to wax related delays. Pilots of the EarWay Pro within the NHS are already showing some excellent results, demonstrating safety and efficacy combined with significant time saving. This contributes to an improved pathway to audiology, and better hearing health care services for both patients and health care providers".
Yael Karlin, CEO of EARWAYS Medical, says: "We're excited to partner with Signia UK and contribute to improved hearing healthcare within the community. The collaboration with Signia provides healthcare professionals with accessibility to the innovative EarWay® Pro". Yael added: "The synergies between EARWAYS' product portfolio and Signia's brand-platform and customer base will drive improved access to hearing healthcare, reducing waiting time as well as out-of-clinic referrals. This will enable patients to be treated without delay and health care providers to work to the full scope of their practice".
EarWay® Pro, listed with the FDA, CE marked, TGA Australia, Canada Health and is currently available on the NHS Supply Chain Framework
To watch EarWay Pro Tutorial Video click:
https://earwaysmedical.com/earway-pro/earwaypro-tutorial-video/
FURTHER INFORMATION:
W: http://earwaysmedical.com/earway-pro/
E: publicsector.uk@signia-hearing.com