Soluvos Medical is proud to be an official partner for COOK OHNS in the BeNeLux region, as of 1 February 2022, for the COOK OHNS product line: Sialendoscopy, Biodesign Otologic repair, Doppler Blood Flow Monitor, Biodesign Dural repair.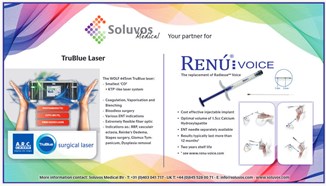 The Soluvos team is looking forward to meeting readers in person at the following meetings:
4-5 March 2022: Surgery techniques in laryngology workshop with Elisabeth Sjögren, NL - Hans Mahieu, NL - Ahmed Geneid, Finland & Markus Hess, Germany at the Medical Voice Center in Hamburg.
19-21 April 2022: International ENT video-endoscopy course with ao. Gregory Postma & Jim Burns in Radboud University in Nijmegen, NL.
Soluvos Medical offers the following product portfolio:
Renú Voice is the equivalent replacement for Radiesse Voice:
Soluvos is the European partner for Renú Voice and supplies direct or via partners.
Renú Voice is a cost-effective vocal fold injection augmentation product, containing synthetic Calcium Hydroxylapatite (CaHA) particles with a diameter of 25-45 microns.
The syringe contains 1.5cc and can be injected percutaneously or with a trans-oral needle supplied separately. Renú Voice is FDA and CE approved.
A.R.C. Laser ENT Surgical Laser line with ao. WOLF TruBlue Laser:
the fiber guided Blue laser for all ENT indications, in BeNeLux, Italy, Denmark, Sweden, Norway and part of Finland
Montgomery Thyroplasty products:
the most standardised Thyroplasty solution, in BeNeLux
Boston Medical Products:
for airway - oesophageal indications, in BeNeLux
bess Medizintechnik products:
rhinology and otology products, in BeNeLux
COOK OHNS product line:
Sialendoscopy, Biodesign Otologic repair, Doppler Blood Flow Monitor, Biodesign Dural repair, in BeNeLux
FURTHER INFORMATION:
The Soluvos Medical support team:
Rose Henrichs – Jeroen Doomernik – Celine van der Hooft – Sharon Baltussen
T: +31 (0)403 041 717
T: UK: +44 (0)845 528 0071
E: info@soluvos.com
W: www.soluvos.com