BIOHIT HealthCare is pleased to announce the launch of its new website, which is designed to make it easier than ever for healthcare professionals to find the information they need. Visitors to the site can now quickly navigate to the disease area or products of interest, and there is also a resource section to provide rapid access to brochures, webinars, case studies and blogs.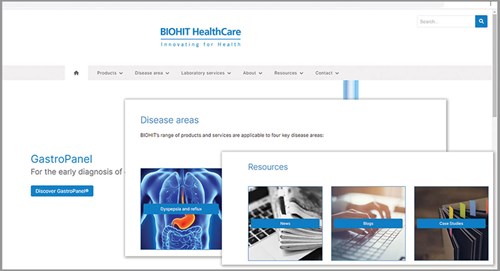 BIOHIT offers a strong portfolio of tests to address previously unmet needs for the early diagnosis and prevention of gastrointestinal diseases, and is best known in the ENT community for Peptest®. This non-invasive diagnostic test plays a key role in directing the assessment of patients with severe extra-gastrointestinal symptoms suggestive of laryngopharyngeal reflux (LPR), including persistent cough, vocal problems, asthma and difficulty swallowing. Many of these symptoms are often incorrectly attributed to ENT problems, leaving patients and GPs alike assuming that they stem from colds, allergies or over-using the voice. As a result, LPR often goes undiagnosed, and can lead to permanent damage of the oesophagus, as well as contributing to more severe conditions such as cystic fibrosis, asthma, Barrett's oesophagus, oesophageal adenocarcinoma and laryngeal cancer.
Peptest offers the ideal solution, effectively quantifying the presence of stomach-derived pepsin – a highly predictive marker of reflux – in the upper digestive and respiratory tracts. Already widely recognised and adopted by healthcare systems around the world, this fast and cost-effective differential diagnostic tool allows clinicians to quickly identify and monitor LPR, helping to guide appropriate treatment.
Peptest is just one of the many products that BIOHIT HealthCare offers. The company's range is designed to transform clinical practice, improving patient management and easing the strain on healthcare services.
FURTHER INFORMATION:
To learn more about Peptest and the other key products, visit BIOHIT HealthCare's new website on www.biohithealthcare.co.uk