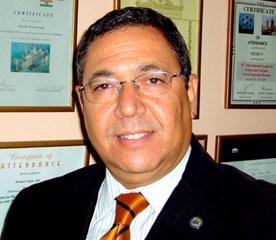 A key supporter of ENT & Audiology News has been given a role at the world's largest international conference for otorhinolaryngology head and neck surgery. Dr Hesham Negm, one of ENT & Audiology News' global ambassadors, will serve as International Coordinator at IFOS Dubai ENT World Conference 2023. 
With its slogan, "Connecting minds, creating future for a better tomorrow," IFOS Dubai runs 17-21 January 2023. Focusing on ENT, ORL care and communication disorders, the congress is calling for abstracts which must be submitted by 20 May 2022. The extension for free papers is 30 June 2022.  
Organisers commended Dr Negm for an "internationally outstanding work profile" that would help spread word of the conference across the globe. As well as being the magazine's Global Ambassador (ENT) – North Africa & Middle East, he is Emeritus Professor of Otorhinolaryngology in the Faculty of Medicine at Cairo University. His main interests are phono surgery, laser surgery and sleep medicine. 
Congress details at https://www.ifosdubai2023.com/