Alex Griffiths-Brown talks to a star of classical music about playing with a cochlear implant. 
Russell Tyler is the principal oboist with the Orquestra do Norte in Portugal. In 2018 he was diagnosed with superior semicircular canal dehiscence in his left ear and had three surgeries to try to rectify the issue. After one of the surgeries, he lost all hearing in his left ear. In this interview he shares his experiences as a musician and his journey with a cochlear implant (CI). Russell performed with an ensemble from the Vienna Philharmonic (below right) as part of the MED-EL Sound Sensation music festival. You can see his performance and interviews online.
When did you start your musical career and why the oboe?
I always liked music and learned guitar and organ by ear, but couldn't read music. I had absolutely no idea! I started learning when I got to high school, firstly with trumpet, then bass clarinet, saxophone, flute and finally oboe. The reason I wanted to play the oboe was because I heard the Mozart Oboe Quartet and loved the sound of the instrument. So you can imagine that, coupled with playing Mozart in Vienna was a dream come true. It signifies the beginning of my learning the oboe to the present day.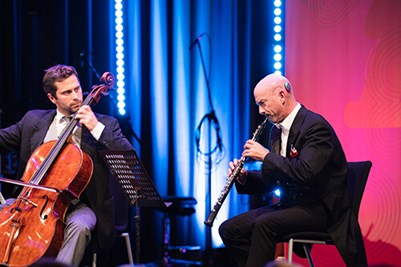 How did your sudden hearing loss affect your perception of music?
I can't really say. All I remember is not being allowed to play for two years. I would always put myself on the left-hand side when I was with friends so I could hear them and after a while my friends would naturally put themselves on the right-hand side to help me hear. When I returned to the orchestra it was strange, but I just seemed to get on with it. My only worry was that I had a huge target on my back, being principal oboe with only 50% hearing. So I applied myself and people responded by saying that I played even better than before. Why? I think because I had nothing else to lose!
How long were you without hearing in your left ear for?
I was on sick leave for two years and I had to have three surgeries in total, but lost my hearing after the first operation. As the situation got worse, my surgeon said it was either retire from music or try an implant. As I knew he only wanted the best for me I trusted in him and in September 2020, just weeks after talking about it, I was having the implant. My surgeon really is amazing!
How did you feel when a cochlear implant was mentioned?
I cried in front of Dr João, my ENT surgeon. He's an amazing human. I said that having the typical hooligan English face (most Portuguese people say it, and I have to agree), and also being bald I didn't need anything else to attract attention. So in his effort to cheer me up, he said that if I cut off my head I wouldn't have this problem! As we have a great relationship, I know it was meant with humour and to make me feel at ease. He has been so supportive that I do wonder if he does this with all his patients. If he does, he's a saint on earth. Weirdly I have never actually cried about losing my hearing, and I cry at everything, it's just another obstacle that I need to overcome.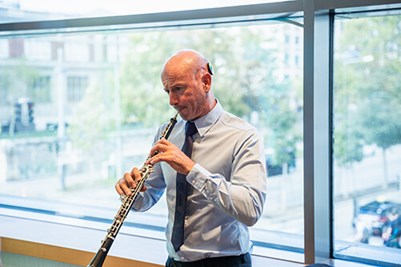 How much did you have to practise with the cochlear implant?
Every week I had speech therapy. The therapist is very friendly but very demanding. Being a musician, she saw that my musical experience was helping me progress more quickly than non-musical CI users. So she demanded more from me, with no excuses. Playing my instrument, knowing what note I was playing, but hearing something different was complicated. But then knowing the note I was playing I could train my brain to understand what was going on.
I believe that when something is difficult, it's very difficult, but it benefits us in the long run. Anything worth obtaining or achieving will never be easy.
How was your first concert back with the orchestra after having your CI?
A lot of pressure, personally. I am my own worst enemy. I gave it my all and people noticed the difference. Hearing so many different sounds was confusing and distracting for my brain, but over time it's getting better.
Thank you so much for your honesty Russell. My final question is what three discs would you take with you on a desert island. I'll let you have albums or singles.
I've never been asked that before! Off the top of my head... Barber: Adagio for Strings, Metallica: Nothing Else Matters and Tasmin Archer: Great Expectations – it reminds me of when I lived in a children's home and it was my refuge.
Read our report on the MED-EL Sound Sensation music festival.
Alex Griffiths-Brown, Senior Audiologist, The Shrewsbury and Telford Hospital NHS Trust.