Alex Griffiths-Brown heads to Austria to hear MED-EL showcasing music by and for hearing implant users.
Vienna is a city steeped in a rich musical history, with Haydn, Mozart and Beethoven having lived and composed here. With this in mind, it seemed the natural choice of location for MED-EL to host events for its Sound Sensation music festival. Broadcast online from 6-8 October 2022, it celebrates music for and by hearing implant users, showcasing musicians' experiences, scientific sessions, short interviews and concerts. 
As an audiologist who isn't routinely involved with cochlear implant assessments or fittings, I came to the event with preconceived ideas about the limitations of cochlear implants and music perception and enjoyment. On the morning of the event, I attended expert sessions, which will be available to view online as part of the Sound Sensation ExpertsONLINE Music Special. They focused on implantable technology from MED-EL and developments in hardware, software and surgical techniques leading to improvements in music perception for implanted patients.
The remainder of the scientific sessions addressed the clinical considerations and importance of rehabilitation for music and hearing implant users. A key area of focus was the exclusive partnership between MED-EL and Meludia, a pioneer in music-based cognitive behavioural therapy. Meludia is online software that provides structured and guided music training and was developed to improve understanding and appreciation of musical language. A recent study has shown that the training programme is easy enough for CI users to use and make progress with [1]. MED-EL is having a global launch of the Meludia platform free of charge to all MED-EL implant users, care givers and professionals from 6 October 2022.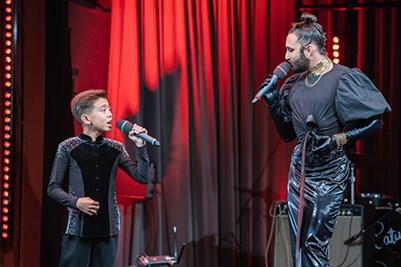 In the afternoon we were treated to a personal tour of the House of Music, a museum dedicated to the musical history of Vienna. As well as interactive exhibits where we were able to create a waltz or conduct the Vienna Philharmonic (with varying levels of success!) there was also a section explaining Beethoven's hearing loss with auditory illustrations of how he experienced sound through his lifetime, which was particularly sobering.
The grand finale of the event, held at the Lorely Saal concert hall, was a truly international celebration of hearing implant users and their musical prowess. There was a pianist from Poland, oboist from England, guitarist and singer from the USA and an unmissable duet from Chingiz Agibaev, a young Kazakhstani boy and Conchita Wurst (right). Anyone who questions whether implant users can be musicians or music lovers really needs to watch the videos from this event!
What I came away with from the Sound Sensation music festival was the realisation that my preconceptions surrounding music and cochlear implants are now quite outdated; no longer are hearing implants just designed for improving environmental awareness or speech perception, but they aim to give users the richness to sound and life that their hearing counterparts experience. I was also really struck by the clear passion that MED-EL and its founders have for improving patient outcomes and quality of life.
See interview with Russell Tyler, principal oboist with the Orquestra do Norte in Portugal, on playing music with a cochlear implant.
Alex Griffiths-Brown, Senior Audiologist, The Shrewsbury and Telford Hospital NHS Trust.
1. Boyer, J, Stohl J. MELUDIA – Online music training for cochlear implant users. Cochlear Implants Int 2022;23(5),257-269.