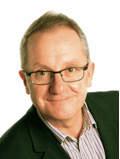 David Baguley,
PhD, MBA,
Specialist Advisor (Audiology)
Professor of Hearing Sciences,
University of Nottingham, UK.
Audiology in this issue...Hyperacusis
Audiologists, otologists, and auditory neuroscientists are accustomed to dealing with problems of hearing loss but, until recently, little attention has been given to the experience of hearing sound too intensely. This experience is variously given the names hyperacusis, and reduced or decreased sound tolerance, and the affected individual finds everyday sound intensely and excruciatingly loud, rendering workplaces, shops, and social spaces intolerable. Unsurprisingly, some withdraw and become isolated: others barely manage using hearing protection devices that may maintain, or even exacerbate, the symptoms. I was delighted to hear that the audiology editors of ENT & Audiology News had decided on hyperacusis as the topic of the present issue, and that I was to be given the chance to work with authors to highlight some of the insights into this important topic that are becoming available. Whilst breakthroughs are proving to be elusive in this area, the fact that research work is underway is a major encouragement to patients and clinicians alike. In fact, 297 papers with hyperacusis as a keyword have been published and listed on Pubmed in the last five years, with a present rate of more than one every week.
In this feature, a varied group of scientists, clinicians, and researchers with expertise in hyperacusis and decreased sound tolerance navigate the reader through current knowledge, sharing insights and wisdom in this emerging field. Ben Auerbach describes the present proposed mechanisms of hyperacusis, whilst sound sensitivity in childhood is discussed from a clinical perspective by Veronica Kennedy and Claire Benton. Sarah Theodoroff describes how the emotional and physiological aspects of hyperacusis might be untangled, and Derek Hoare unveils the priorities for hyperacusis research as identified and rated by patients and clinicians – an innovative piece of work that is likely to be influential for years to come. Looking specifically at sound induced pain, Bryan Pollard writes to raise interest and stimulate research into this debilitating symptom. Finally, an interview with Prof Charlie Liberman ranges wide over his interests and contributions to hearing loss, tinnitus, and hyperacusis, demonstrating how basic auditory neuroscience research can translate into clinical insight. I thank all the authors for being generous with time, energy, and knowledge, and I hope that this feature piques your interest!