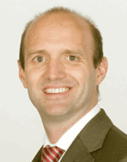 Chris Coulson
ENT Surgeon;
Managing Director of endoscope-i
The future, predict it at your peril', said me – just now. But despite this (rather late) warning, we have managed to commission five articles from futurists within our midst. The predictions our authors make may well, depending on your point of view, map out both our future working and personal lives.
Whilst forecasting the future is often looked back upon with amusement:
1949 – "Computers in the future may have only 1000 vacuum tubes and perhaps weigh only 1.5 tons."
– Popular Mechanics magazine.
1955 – "Nuclear-powered vacuum cleaners will probably be a reality in 10 years."
– Alex Lewyt, President of the Lewyt vacuum company.
Some are amazingly accurate:
1909 – "It will soon be possible to transmit wireless messages all over the world so simply that any individual can own and operate his own apparatus."
– Nikola Tesla.
With the risk of adding to the long list of incorrect prophesies, our plucky authors have transported their minds 15 and 50 years into the future to try and let the rest of us know what to expect.
Maybe just as interesting as what new treatments and technologies will evolve, is the question of which of the treatments we now perform will be looked upon and laughed at or, even worse, seen as negligent?
Has anyone predicted a post nuclear war desolation of society, infrastructure and healthcare in a Mad Max-style dystopia? Thankfully not, although that doesn't mean it won't happen! What it appears we do have to look forward to is increasing robotics and personalised medicine in the next decade or so, which is then replaced with predictive medicine, gene therapy, artificial intelligence, nanobots and (seemingly) a healthcare nirvana, as long as the zombie's don't take over the world (George article).
I hope this special edition excites, entertains and gives you all hope for your future working life, retirement and cryogenic freezing that we have to look forward to.