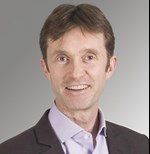 Declan Costello,
MA, MBBS, FRCS(ORL-HNS),
Editor, ENT & Audiology News;
Consultant Ear, Nose and Throat Surgeon,
Wexham Park Hospital,
Slough, Berkshire, UK.
Welcome
We are delighted to launch this current edition of ENT & Audiology News from Brussels, where we are attending the CEORL-HNS Congress. It is always such a pleasure to meet up with colleagues from around the world, and this is Europe's biggest ENT conference, so there will be plenty of people to meet! If you are in attendance and haven't already done so, do drop by and see the ENT & Audiology News team at Stand 5c in Hall 2.
The planning of international meetings seems to become ever more complex – I know this from experience, sitting as the chair of the Communications Committee for CEORL, and also on the planning committee for BACO 2020. In fact, the BACO 2020 programme, steered by Prof Hisham Mehanna, is taking shape, and we will obviously be featuring more on this in the coming months. You can keep up with the latest BACO 2020 news on their website (www.baco2020.org) and Twitter (@2020baco).
We will be featuring a report on the CEORL-HNS Congress (by the inimitable Chris Potter) on our website in the next few weeks, and in print in the next edition of the magazine.
Speaking of our website, if you haven't visited recently, do have a look – we have a vast archive of articles covering both ENT and audiology, along with our comprehensive and searchable course diary. There is also information about the editorial team and all the usual other content including Journal Reviews, Book Reviews, How I Do It, Tech Reviews, Global Health and many others.
Our Global Ambassadors are keen to hear from you about developments in your respective regions – if you think there are topics or meetings that should be covered, please do make contact with the Ambassador in your region. One of our Ambassadors is Nash Patil from Ireland: he is the forthcoming president of the IOS (Irish Otolaryngology Society) – you can read more here, in a conversation with BACO 2020 Master, Gerry O'Donoghue.
For July/August, our Features Editor, Jo Rimmer, has brought together a group of articles on the topic of rhinoplasty – ranging from cleft rhinoplasty through to non-surgical rhinoplasty. You can read her introduction here. And in our Audiology Features, Gareth Smith surveys the rapidly-changing environment of hearing amplification, in which both technology and markets are moving at a swift pace.
Click here for the ENT articles
Click here for the Audiology articles

Lawrie Cleary – cochlear implants in the UK – a clarification from Prof Richard Ramsden
"I enjoyed very much Katherine Conroy's article about Lawrie Cleary and the immense support he gave me in setting up the Manchester Cochlear Implant Programme in 1987. There is, however, one small point I should like to make. There is a reference to the Times article that suggests that our case was the first cochlear implant in Britain. We have never made this claim. My mentor, the late Graham Fraser, had previously established a single channel programme in London. We in Manchester established the first multichannel programme. I am keen to acknowledge Graham's work and his influence."
The article mentioned, 'In conversation with Lawrence Cleary' was featured in the May/June 2019 issue of ENT & Audiology News.