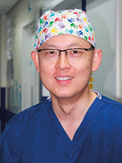 Michael Kuo, PhD FRCS DCH,
Consultant Paediatric Otolaryngologist
Head and Neck Surgeon,
Birmingham Children's Hospital,
Birmingham, UK.
Twitter: @theENTclinic
Website: www.theENTclinic.info
ENT in this issue... Paediatric Otorhinolaryngology
But for the clumsiness of increasing the number of letters in the acronym, 'ENT' would have grown to include recognition of the subspecialties of skull base surgery, facial plastic surgery and paediatric ENT surgery, of which management of ENT problems in children has seen perhaps the greatest development. The UEMS ENT curriculum now includes a chapter of paediatric ENT surgery, the European Board examination includes proportional representation of questions in paediatric surgery and the European Society of Pediatric Otorhinolaryngology's (ESPO)congresses are attracting increasingly large audiences. As with many specialist societies, ESPO started as an informal gathering of like-minded paediatric otolaryngologists and grew into the organisation it is today. Martin Bailey, the General Secretary of ESPO narrates that journey, and Jean-Michel Triglia and Richard Nicollas whet your appetite with what is planned for Marseille 2020. Also, don't miss the interview with Ann Hermansson on this year's highly successful recent meeting in Stockholm, in the International Newsround section of this issue. In 2022, through the magnificent efforts of your erstwhile Editor, Ray Clarke, the ESPO meeting will be held in Liverpool; but details of that on another occasion.
Surgical management of the airway has always been a major part of the workload of a paediatric ENT surgeon. The approach to the surgical airway has evolved dramatically over the past few decades. David Albert's career as one of the pre-eminent paediatric airway surgeons has spanned those decades and the sentiments expressed in his interview should inspire the next generation of airway surgeons. Few emergencies give greater concern to the general otolaryngologist than those in children. Kate Stephenson's guidance on the management of these emergencies should reduce their stress level. Among ENT surgeons, otologists feel the greatest sense of ownership of 'their organ' in children. There are child-specific considerations in many aspects of paediatric otology and two of these are considered by Rob Nash and Keith Trimble.
One of my mentors called paediatric ENT 'the last bastion of generalism'. We hope that this series of articles goes some way to demonstrate that that statement was not a veiled insult in an age of super-specialisation, but that management of children with ENT problems is a diverse and exciting subspecialist area in our profession.