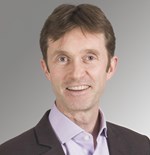 Declan Costello,
MA, MBBS, FRCS(ORL-HNS),
Editor, ENT & Audiology News;
Consultant Ear, Nose and Throat Surgeon,
Wexham Park Hospital,
Slough, Berkshire, UK.

As I write this editorial, the world is holding its breath while it follows the coronavirus outbreak. Deaths have been reported outside China, and we were very sorry to hear that the first death of a doctor was an ENT surgeon, Liang Wudong, aged 62, who had retired last year from his position as the head of the ENT department at one of Wuhan's hospitals. It is clearly too soon to know the overall global impact of the virus, but we will be covering this topic in more depth (including a tribute to Dr Wudong) in future articles. Suffice to say that the Chinese response has been extraordinary, including the building of a 1000-bed hospital in the space of 10 days.
For March/April in ENT & Audiology News, Emma Stapleton and Martin O'Driscoll have joined forces to invite articles on the topic of Otology and Neurotology. The pace of change in this area is pretty breathtaking, so this is certainly a good time to have an update. For me, one of the most amazing areas of development is in middle ear implants, which is discussed in detail. Emma and Martin's introduction to feature articles can be found here.
As a musician, I have been following one particular story over the last few years: the legal case brought against the Royal Opera House by a viola player who developed a hearing loss due to the proximity of the horn players just behind him. The case has had enormous repercussions in the classical music industry – during most of the concerts I attend and perform in, many of the players will have earplugs, and there are acoustic baffles in front of the brass sections to avoid causing damage to other players' ears. Andrew Parker, who was one of the key expert witnesses in that trial, has given us a fascinating insight into the topic of acoustic shock – his article can be found here.
We were very saddened to hear of the death recently of Prof Ugo Fisch. His name is synonymous with otology and skull base surgery, and it is fitting that his name will live in perpetuity through his classification system of glomus tumours. Prof Shakeel Saeed leads the tributes - see here.
It's a great pleasure to announce the arrival of two new members of the Editorial Board: firstly, we have created a role of Global Health Editor, and Cheka Spencer takes up this post. Secondly, we thank Claire Benton for her contribution as Book Review Editor, and it's a pleasure to welcome Bhavisha Parmar as her replacement.
As ever, the ENT & Audiology News team have been out and about – we were delighted to be in Dubai recently for the EROC congress. Very many congratulations to Dr Abdulrahman Al Rand on the 10th anniversary of this very successful meeting. We were overwhelmed by the warm reception to the magazine from readers across the region and we are very excited to be expanding our readership in this part of the world. And on the subject of meetings, we held our annual meeting on 'The Ear and Technology' in February – look out for a report in our next issue.
Click here for the ENT articles.