Declan Costello,
MA, MBBS, FRCS(ORL-HNS),
Editor, ENT & Audiology News;
Consultant Ear, Nose and Throat Surgeon,
Wexham Park Hospital,
Slough, Berkshire, UK.
A few weeks ago, the ENT & Audiology News editorial team had a very productive meeting in Edinburgh (pictured); it was long overdue as we (like many others around the world) had not met face to face since before March 2020. Although video meetings have kept us ticking over for the last two and a half years, it was an absolute joy to be able to meet in person and it stimulated many interesting conversations.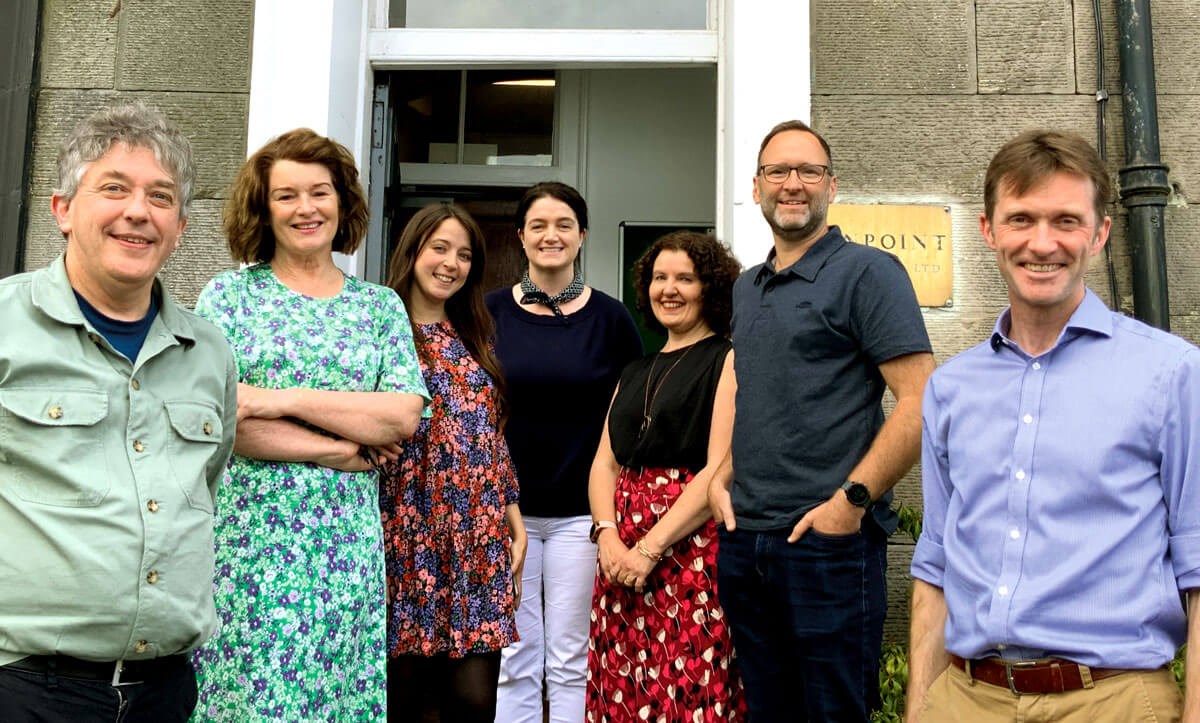 (L-R) Mark Fisher, Rosaleen Shine, Francesca McCabe, Emma Stapleton,
Rhian Lewis, Gareth Smith and Declan Costello.
As promised in our last issue, we welcome a couple of new Global Ambassadors in this edition: it is a pleasure to introduce Professor Daniel Kaplan (ENT surgeon from Israel) and Professor Rajalakshmi Krishna (reporting on audiology from the Indian Subcontinent). You can read more about them and their respective regions here. We will be hearing more from them in the coming months about developments in their parts of the world.
In other personnel changes within the magazine, we thank Emma Stapleton for her wonderful stewardship of the International Newsround section, and we welcome Rohma Abrar and Haseem Raja into the role as joint Newsround Editors. In fact, Rohma and Haseem have just got married, so we send our warmest congratulations!
The current edition is unashamedly all about ears: Emma Stapleton and Ralph Holmes have brought together a group of articles spanning otology and audiology on the topic of 'Inner Ear Therapeutics'. You can read their introduction here.
Continuing the subject of ears and hearing, we have an update on over-the-counter hearing aids, having initially visited this topic in 2017. With the implications for the provision of HAs being potentially far-reaching, we hear from audiology leaders across Europe and the USA on the positions in their respective jurisdictions. You can read the article here.
It has been a while since we heard from Chris Potter, and his articles are guaranteed to raise a smile, so it's great to read one of his pieces again. In just a few paragraphs, he traverses Bentley cars, medical gravitas, genomics, Tony Blair and molecular biology. Click here to read more.
We reported in our last edition the tragic news of the death of our good friend, David Baguley. In the coming months we will be devoting a large section of the magazine to a discussion of his research legacy. But in the meantime, we have a wonderful obituary written by Kevin J Munro, Michael A Akeroyd and Judith Bird – click here to read more.
As we go to press, we have just received news of the death of Prof Nobuhiko Isshiki at the age 92. He was a huge figure in the world of laryngology and voice disorders and pioneered a number of different operations, including thyroplasty (medialisation laryngoplasty), which remains one of the key surgical interventions for vocal fold paralysis. We extend our sincere condolences to his friends and family. He has featured in this magazine a number of times. Click here to read an interview with Professor Isshiki.
As always, we would love to hear from you – please do drop us an email or join us on our social media channels.