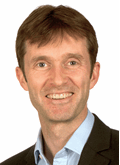 Declan Costello,
MA, MBBS, FRCS(ORL-HNS),
Editor, ENT & Audiology News;
Consultant Ear, Nose and Throat Surgeon,
Wexham Park Hospital,
Slough, Berkshire, UK
Email: d.costello@nhs.net

Welcome
As we turn the corner from 2018 into 2019, it is interesting to reflect that we have an uncertain future ahead of us: on a political level, international relations seem increasingly fractious, so it is good to see that as clinicians we continue to work in a collaborative way across borders. With this in mind, in this edition we celebrate the forthcoming CEORL-HNS Congress, which is to be held in Brussels this summer. Indeed, our cover shows the famous Atomium sculpture in Brussels – what could better symbolise our international relations than identical but distinct atoms joined by strong bonds?
The last CEORL-HNS Congress was held in Barcelona in 2017 and was originally scheduled to be hosted in Turkey, but the organisers had to rapidly shift venues; to make things even more complicated, the congress itself was held at the very height of the Catalan independence furore. You can read more in a conversation among three presidents of the CEORL-HNS on page 35. In the shape of YO-IFOS, the younger generation of otolaryngologists is building ever-stronger international links – see more on page 44. The CEORL-HNS congress promises to be a fabulous event in a beautiful city; the ENT & Audiology News team will be there in force. And if you get your skates on, you can submit abstracts by 13 January. Regular updates can be found at the congress's Twitter feed @ceorlhns2019 
On the subject of meetings, ENT & Audiology News will host its annual meeting on 'The Ear and Technology' on 2 February, with our very own Emma Stapleton as the Master of Ceremonies. Go to www.earandtechnology.com to find out more and to book your place.
As ever, we have the usual smorgasbord of articles for you. Our Audiology Features covers the thorny topic of hyperacusis, and is edited by our good friend, David Baguley – you can read his introduction on page 47. On page 84, you'll see that Prof KJ Lee has kindly donated three copies of the (now legendary) Essential Otolaryngology Head and Neck Surgery, which we will be raffling at the ENT Masterclass meeting in January. He has even written inscriptions as an added bonus! Do continue to keep in touch – we very much welcome your emails, Tweets and Facebook comments.
Click here for the ENT articles
Professor Heinz Stammberger (1946-2018)
As we went to press, we learned of the death of Professor Heinz Stammberger on 9 December. Within the global ENT community, there can be few people whose names are as well-known as his, and his loss will be keenly felt around the world. A private funeral took place on 15 December. We extend our sincere condolences to his family and friends. An extensive obituary is on our website: