Emma Stapleton, Locum Consultant Otolaryngologist, Cochlear Implant and Skull Base Surgeon, Manchester Royal Infirmary, shares your event reports and news from around the world.

BSHAA celebrates female audiologists on International Women's Day
The British Society of Hearing Aid Audiologists is celebrating International Women's Day on 8 March by putting the spotlight on some of its female members. Read more...
Prof Abdelaziz Raji joins ILC and ENT & Audiology News
We are delighted to announce that Professor Abdelaziz Raji has recently joined our International Liaison Committee to represent Morocco. Read more...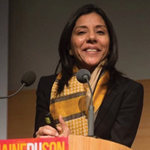 INTERVIEW: Shelly Chadha, MBBS, MS, PhD
This year's theme for World Hearing Day 2018 on 3 March is discussed by Shelly Chadha of the World Hearing Organization (WHO). Read more...
PREVIEW: ENT UK and BSA Inaugural Global Health Meeting, 11 May 2018, London, UK
11 May 2018 sees the first ever joint meeting between ENTUK and the BSA completely dedicated to Global Health issues in ENT and audiology. Read more...
PREVIEW: BIHIMA (British Irish Hearing Instrument Manufacturers Association) 2018 'The Future of Hearing Technology', 11-12 May 2018, Birmingham, UK
The British Irish Hearing Instrument Manufacturers Association (BIHIMA) are launching its inaugural conference on 'The Future of Hearing Technology'. Read more...
PREVIEW: 14th ESPO Congress, 2-5 June 2018, Stockholm, Sweden
The upcoming European Society of Pediatric Otorhinolaryngology (ESPO) 2018 Congress has the theme 'Working together for the child'.. Read more...
PREVIEW: EAONO 2018, Copenhagen, Denmark 
Delegates at the meeting will find cutting edge knowledge on otology and neurotology presented by European and global leaders in the field who are dedicated to teaching at the highest international level. Read more...
REPORT: EROC 2018, 17-19 Jan 2018, Dubai, United Arab Emirates

EROC 2018 has progressed to encompass a broad range of topics in ENT care and management attracting a growing number of attendees, both regional and international. Read more...
REPORT: ELS Live Surgery Broadcast, 13 December 2017, Poznan, Poland
The ELS international broadcast was presented and moderated to a global audience live from the Poznan Supercomputing and Networking Centre. Read more...
REPORT: Pan-Asia EES Forum, 12-13 November 2017, Hong Kong
The forum had excellent faculty members from the Asia-Pacific area including Australia, China, Japan, Korea, Hong Kong, Malaysia, Singapore and Taiwan. Read more...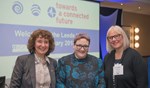 REPORT: BSHAA, BSA and BAA Joint Event, 7 February 2018, Leeds, UK
Almost 200 audiology professionals and students enjoyed a packed day of learning and networking at the first ever joint conference from BSHAA, the BAA and BSA in Leeds on 7 February. Read more...
REPORT: 28th Annual NASBS Meeting, 16-18 February, Coronado CA, USA
With the theme 'Dynamic Mentoring of the Skull Base Surgeon: Training our future.', it extensively covered emerging developments in skull base surgery highlighting the importance of mentorship, teaching and training. Read more...
REPORT: The 2nd Ear and Technology Masterclass, 10 February 2018, Doncaster, UK
Report by Natasha Amiraraghi MBChB, DOHNs, FRCSEd (ORL-HNS), AMTF in Cochlear Implant and Skull Base Surgery, Crosshouse Hospital, Kilmarnock, UK. Read more...