Report by: Dr Imtiaz Ather Siddiqui, ENT Consultant, Chiniot General Hospital, Korangi Karachi 
Charity is a very old phenomenon in the human race. The International Relief Agency (IMRA) is a registered charity with its operational headquarters in Manchester, UK, and sub-offices in Springfield, Virginia, USA and Karachi, Pakistan.
IMRA has its cochlear implant (CI) programme as its primary charitable project. A total of 84 cochlear implants are now switched on and working.
On the most recent charity event of IMRA, six cochlear implant operations were carried out. The venue was the surgical operation theatres of Memon Medical Institute. This was second time this hospital has offered surgical facility free of charge. A previous six cochlear implant surgeries were carried out in January 2019 in the same hospital. Funds were raised in UK. However fundraising was also done at the Convention of Association of Pakistani Physicians of North America (APNA) Dallas USA last year.
Two cochlear implants were successfully completed on day one, three on day two and one on day three. The surgical team included Dr M Haroon Khan (UK), Dr Naveed Ahmed (UK), Dr Shaukat Malik (Pakistan), Dr Shawan Muhammed (Sharjah, UAE) and Dr Ausaf Ahmed Khan (Pakistan).
For cochlear implant patients, the rehabilitation team is equally important to the surgical team. This included Mrs Farhat Zar (Speech Therapist), Sajid Yaqoob (Audiologist); a team who have 30 years of experience in cochlear implant rehabilitation.
Among all recipients, the youngest was one year old, then five years and then adults. Cochlear implant candidates were selected irrespective of faith and race.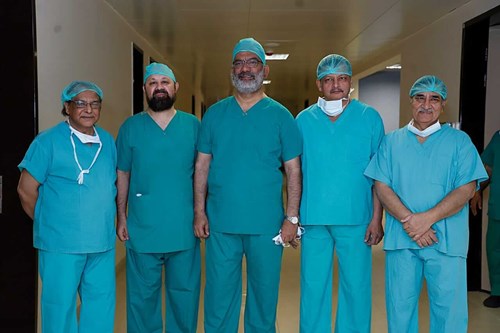 Surgeons of IMRA who performed six cochlear implant operations for the charity.
(L-R) Dr M Haroon Khan, Dr Naweed Ahmed, Dr Ausaf Ahmed Khan, Mr Sajid Yaqoob and Dr Shaukat Malik.