Report by: Aileen Lambert, RSM Otology AOT Trainee Rep
It has been another fascinating year of stimulating presentations at the Royal Society of Medicine (RSM) Otology section meetings. A wide-reaching programme of current issues within the subspecialty was presented by the section president, Richard Irving, a Consultant Neurotologist in Birmingham.
In November 2018 we learnt about the influence of Richard's upbringing in Stockport, including being a petrol-pump attendant near Stepping Hill Hospital. He then went on to illuminate how mentors in ENT have shaped his passion for undertaking research which benefits clinical practice, with the take home message: 'Why do we do what we do?' The Edith Whetnall lecture was delivered by Dr Mazin Al-Khabori from Muscat, Oman. The focus of his talk was the global burden of hearing loss, which set out the context with WHO data estimates and inverse links with GDP and parental literacy. He described his impressive contribution to childhood screening, as well as his genetic work, with particular relevance to consanguineous marriages. We were also told of the local custom he had come across of using ground coffee as a treatment for many ear complaints!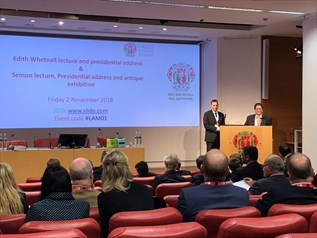 President Richard Irving with Dr Maznin Al-Khabori at the November 2018 Otology RSM.
The highlight of the December meeting was a lively and frank debate: 'This house believes that competence in major ear surgery should not be a requirement for Completion of Training in ENT'. This meeting also included talks from Peter Rea (balance service provision), Simon Freeman (cochlear implant controversies) and James Tysome (relevance of the eustachian tube).
The January meeting gave us a comprehensive overview of facial nerve rehabilitation work from our allied colleagues in physiotherapy and reconstructive surgery, including the postoperative re-education that patients need to engage with to learn to smile again, and the psychological aspects of that process; understanding the grief they experience for the loss of the smile they had, and the importance of patients 'owning' their rehabilitation, engaging in constant visual and tactile feedback to bring about optimum outcomes.
We were given the pleasure of hearing a vibrant and stimulating talk from Dr Tessa Hadlock, an ENT specialist in facial plastics and micro-vascular reconstruction, from the Massachusetts Eye and Ear Hospital. She used photos and videos to break down the complexity of facial paralysis, highlighting flaccid, hypertonic and mixed paralysis, allowing practical diagnostic and rehabilitation planning.
The March meeting included the annual 'Matthew Yung Short Paper Competition', a spotlight on current trainee research. The meeting also focused on the wider issue of research in otology in the UK with insights provided by Peter Monksfield (Birmingham). The overseas perspective on the challenges of being a practising surgeon-scientist were presented by Lawrence Lustig (New York), Editor of the prestigious Otology and Neurotology Journal.
The final meeting in May 2019 focused on the future of otology and audiology, including developments in hearing aid technology and other audiological services. We were reminded that robots are coming to otology, whether we like it or not! The annual JLO Lecture was delivered by Stanford Professor of Otorhinolaryngology and Neurosurgery, Robert Jackler.