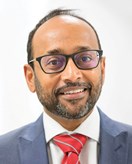 Vinidh Paleri,
Consultant Head and Neck Surgeon, 
The Royal Marsden NHS Foundation Trust;
Professor of Head & Neck Surgery,
The Institute of Cancer Research;
Director, International Centre for Recurrent Head and Neck Cancer;
President, British Association of Head and Neck Oncology, UK.
Robotic surgery is here to stay. Within the specialty of otolaryngology, robotics has made headway across all of the subspecialties, although some advances may still be at the pre-clinical stage. The clinical applications are most acutely evident in the practice of head and neck cancer surgery, specifically transoral robotic surgery (TORS).
ENT & Audiology News Nov/Dec 2021 focuses on TORS, where transoral approaches have obviated the need for transcervical/transmandibular approaches, with the significant advantages of function preservation. Based on the site of the lesion, the latter is achieved by minimal or no disruption of muscle attachments and sensory nerves, both of which are crucial elements in rapid rehabilitation of swallowing function. Although robotics are used to convert open surgery to minimally invasive surgery in other aspects of head and neck cancer too (neck dissection, thyroidectomy and parotidectomy), they haven't gained as much traction, as the benefits from these novel approaches are primarily related to cosmetic gains. Our ENT Features offer an insight into several aspects of TORS, which I feel are relevant for someone just setting out on their TORS journey.
Henry Zhang, who is now a Head and Neck Surgery Fellow in Melbourne, having completed his higher surgical training in the UK, reflects on the training he received for TORS, and the training pathway that was available to him. He rightly emphasises the important skills, situational awareness and knowledge to be gained from being a TORS assistant at the head end prior to becoming a console surgeon.
Implementing change is difficult, and this is especially true in a resource-constrained setting. Gouri Pantvaidya and Amaya Pai from Tata Memorial Centre in Mumbai, one of the premier centres for cancer surgery in the world, in their insightful write-up explain the challenges of setting up a TORS programme. The generic lessons here should be instructive to a wider cross section of readers.
John Hardman offers a big-picture flavour of the international efforts on the research frontiers within TORS. Although the UK was slightly late to the robotic surgical party, the TORS-related research data generated from the UK will add significant value. Ongoing studies such as PATHOS (the largest head and neck cancer surgical trial in the world), MOSES, RECUT and STORM will challenge the way we practise head and neck cancer surgery for years to come.
In the field of head and neck cancer surgery, surgeons normally get one 'good bite at the cherry' to achieve negative margins around the cancer in three dimensions, as revision surgery is associated with substantially poorer cure rates. This is even more crucial in patients who have no adjuvant treatments available, such as with recurrent cancers. Jim Higginson delves into the metabolomics world, where he discusses how recent advances in understanding the metabolic signature of cancers, combined with TORS, can yield significant advantages in margin detection using metabolic fingerprints, all in real time. If this avenue of investigation is shown to be valuable, the impacts will be significant.
With several robotic platforms on the market and the emergence of task-specific robots in different fields, the cost of robotic surgery is coming down. Jack Faulkner sets out the alternative emerging robotic platforms available for TORS work