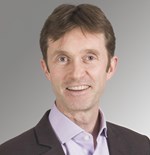 Declan Costello,
MA, MBBS, FRCS(ORL-HNS),
Editor, ENT & Audiology News;
Consultant Ear, Nose and Throat Surgeon,
Wexham Park Hospital,
Slough, Berkshire, UK.
Welcome

Happy New Year! It is probably just the fact that I am getting older, but the years seem to go past faster and faster as time goes on… and so it is that BACO is once again on the horizon – it seems only yesterday that we were all in Manchester. Having said that, BACO is now being held every two years (whereas until 2018 it was every three) so one can be forgiven for thinking that time is accelerating. For Jan/Feb 2020, we are very proud to shine the spotlight on the UK's premier academic ENT meeting, which will be held in Birmingham in July. My first BACO attendance (back in 2006) was in Birmingham, and I remember being taken aback at the array of topics on display. In the last 14 years, BACO numbers have grown steadily, along with its ambition and scope. Emma Stapleton has invited a collection of articles which showcase Birmingham as a city, and also the outstanding array of academic topics, along with conversations with some of the key players. Emma's introduction to the ENT articles can be found here. More information on BACO can be found here.
In our Audiology Features, we discuss a range of topics on the subject of 'The Weird World of Science'. In fact, Birmingham's Symphony Hall gets a mention here too! Click here for Gareth's introduction.
As I am a laryngologist, I'm very pleased to feature two articles that pertain to voice disorders: in the first, the renowned surgeon, Markus Hess and Susanne Fleischer talk about the use of transcutaneous fibre-delivered lasers in the operating theatre. Our second laryngology feature is a particular pleasure: to mark Prof Nobuhiko Isshiki's 90th birthday in January, I couldn't resist the opportunity to honour this immensely influential (and yet very humble) man.
We also feature a report on the new EU Medical Device Regulation (MDR). This regulation is likely to have a massive impact on the medical devices market, and many smaller manufacturers are very concerned that it will stifle competition. At the very least, it will make it more burdensome and time-consuming to develop new products.
In case you needed reminding, ENT & Audiology News's Study Day on 'The Ear and Technology' is free and will be held on Saturday 29 February 2020 in Manchester. We have confirmed 6.5 CPD points awarded from BSHHA and 8 CPD points awards by ENT UK. Visit www.earandtechnology.com for more information.
Finally, if you are at EROC in Dubai on 15-17 January, please do come and visit us at stand AB-21!
Click here for the ENT articles