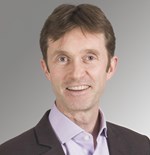 Declan Costello,
MA, MBBS, FRCS(ORL-HNS),
Editor, ENT & Audiology News;
Consultant Ear, Nose and Throat Surgeon,
Wexham Park Hospital,
Slough, Berkshire, UK.
Welcome
There are many jokes told by anaesthetists about surgeons, and perhaps even more in the other direction, but there remains a great respect between the two specialties. Amongst surgical specialties, no other discipline requires quite such close working relations as between ENT surgeons and anaesthetists. The planning for a difficult airway, for example, requires the two medics to work together in an atmosphere of mutual trust where each plays an equal role. Until a few months ago, I had worked for 10 years at the Queen Elizabeth Hospital in Birmingham, and it is my great pleasure to introduce my anaesthetic colleague, Nick Crombie, with whom I worked on Fridays for all of that time. As ENT Guest Editor for Nov/Dec 2019, Nick has brought together a wide array of articles on the topic of 'Anaesthetics and ENT', and you can read his introduction HERE.
I have just returned from the British Laryngological Association meeting ('Cutting Edge Laryngology') in Edinburgh, which was very well-attended and enthusiastically followed on the internet. One of the key initiatives from the BLA in recent weeks has been on the topic of Gardasil for laryngeal papillomatosis: the BLA is now recommending that all patients with recurrent respiratory papillomatosis should have the inoculation. You can read more on this in an interview with BLA President, Mark Watson in our News section. 
In our Audiology Features Guest Editors, Melanie Ferguson, Danielle Glista and Evelyn Davies-Venn discuss 'Connected Health in Audiology: The Future of Hearing Healthcare', with their introduction HERE. This is a rapidly evolving area, so the inclusion of this topic is timely.
In fact, many British audiologists will be heading to Liverpool in November for the BAA meeting, and ENT & Audiology News will be there – we would love to see you, so do come and visit us on stand 52a.
As regular readers will know, it has been the pleasure of ENT & Audiology News to be a partner of the Tarabichi-Stammberger Ear and Sinus Institute scholarships: these are given every year, and a panel of ENTAN contributors evaluates the applications. The next round of TSESI applications will open from 1-31 January 2020; you can find out more HERE.
For the last three years, ENT & Audiology News has run the enormously popular 'Ear and Technology' Study Day: the fourth meeting is in Manchester on Saturday 29 February 2020, and is free to attend; we have a fantastic line-up of speakers, so do sign up here: www.earandtechnology.com
Finally, as this is the November/December content, I'll wish you Happy Christmas! The team at ENT & Audiology News have many plans for 2020, including extensive coverage of BACO and many other topics. So do join us next year! Don't forget, you can access all this content and more on this website.
Click here for the ENT articles