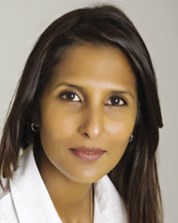 Priya Carling, AuD,
Director and Consultant Audiologist,
Kent Hearing Ltd, UK.
As a working clinical audiologist, my focus every day is predominantly diagnostics of hearing loss, closely followed by management of ear pathology and rehabilitation of hearing loss in adults and children. The July/August 2021 content for ENT & Audiology News was a refreshing change from my day to day, not to mention a dusting-off of cobwebs from the grey matter, learning much about genomics and genetics of hearing loss, and having the privilege of editing some of the work of experts in the field of genomics and hearing loss.
According to the World Health Organization, "the main difference between genomics and genetics is that genetics scrutinizes the functioning and composition of the single gene whereas genomics addresses all genes and their inter relationships".
Our focus for July/August 2021 is not because we think that hearing loss needs to be cured, and we are very much aware and respectful of choice and Deaf culture. However, we also acknowledge that there are those who wish to experience sound or prevent hearing loss in future generations or simply understand what caused them or their loved ones to have hearing loss. And, as one of our contributors said, "it's time for a genetics (and genomics) update!"
We are exploring some of the current research coming out of laboratories across the world, and projects in progress. Professor Karen Avraham and Dr Shahar Taiber share some innovative approaches to treating hearing loss that they are investigating in Tel Aviv. Dr Eliot Shearer shares the progress being made with newborn hearing screening 60 years on from where it started, and future directions for identifying hearing loss using physiologic, genetic and cCMV screening. The team in Manchester and Boston share their SEQaBOO project, which is one of the 15 or so global genome sequencing projects. Professor John Giannios discusses how genomic medicine can be practised in audiology to provide bespoke care in diagnosis, management and prevention.
One of the highlights for me, and an absolute coincidence, a lucky twist of fate if you will, was meeting a new patient of mine just about when we started working on these articles. She mentioned that both her daughters had congenital hearing losses and wore hearing aids. So, we are lucky to have an interview with Tess Lopez, the mother of these two lovely girls, and get an insight into her experience with the 100,000 Genomes Project, and the findings of their assessment.
I hope you enjoy reading these articles as much as we have enjoyed putting them together, and just remember to stay safe, and enjoy the summer!