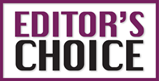 Ed's Choice reviews a timely paper investigating prolonged intubation on vocal fold motion. The current scientific literature is dominated by studies examining COVID-19 and its widespread effects on health and healthcare delivery but will be old news by the time this is in print. Prolonged intubation has become more acceptable, when prioritising risk to patients and staff from airway intervention during the pandemic, but there may be longer term consequences yet to be realised. Many thanks as always to our reviewers.
Charles Giddings FRCS(ORL-HNS), FRACS,
Consultant ENT, head and neck surgeon,
Monash Health, Melbourne, Australia.
At the time of writing (April 2020), intensive care units in the UK and in many other countries around the world are replete with patients being mechanically ventilated as a consequence of COVID-19. Preliminary UK data from the latest ICNARC report suggest that at least a third of such patients will survive, with a median duration of advanced respiratory support of seven days. It is well recognised that prolonged intubation is associated with subsequent laryngeal complications, including vocal fold motion impairment (VFMI). The incidence of this complication is reported to be as high as 41% in some case series. As such, it is important for ENT surgeons to be aware of the prognosis for this particular condition to guide management strategies. This paper reported the outcome of 25 cases of intubation-induced VFMI. Intubation duration was a mean of 6.55 days. The majority (76%) of cases were unilateral, with the left cord being affected far more frequently than the right (89% of unilateral cases). Of those patients with a unilateral VFMI, 95% of cases recovered, either in terms of satisfactory voice improvement or resolution of the vocal fold immobility. Of the six cases with bilateral VFMI, only two (33%) were reported to have recovered. Three of the patients with bilateral VFMI required tracheostomies. Median recovery time was 4.31 months (range 19-715 days). It is hypothesised that the worse prognosis in bilateral VFMI reflects the development of a posterior glottic stenosis as the underlying cause of these cases, whereas a unilateral VFMI is more likely to represent a transient neuropraxia. Although the numbers of this retrospective study are small, the outcome data provided is nevertheless valuable in the current context of the large number of patients worldwide who will ultimately require rehabilitation from a period of prolonged intubation.